Click to Zoom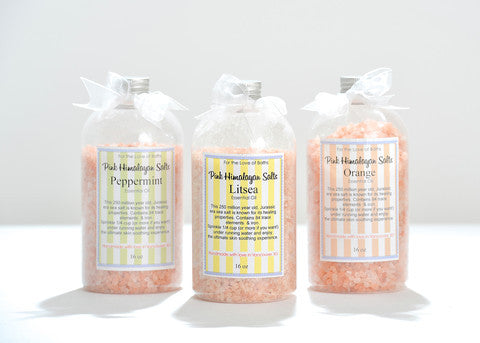 Pink Himalayan Salts
Made with natural mineral crystals to ease sore muscles and joints in tranquil aromas like Lavender and Fresh Laundry, our bath salts are available in Epsom, Pink Himalayan, and Dead Sea varietals.  Salts have been used to heal for centuries, revered for their abilities to stimulate circulation, lower blood pressure, and remove toxins from the body.
Pink Himalayan salts in particular are a pure, hand-mined salt found naturally deep inside the pristine Himalayan Mountains. The high mineral crystals range in color from sheer white to varying shades of pink to deep reds which indicates a beneficial amount of 84 trace elements & iron. 
This 250 million year old, Jurassic era sea salt is known for its healing properties.
16oz.