Click to Zoom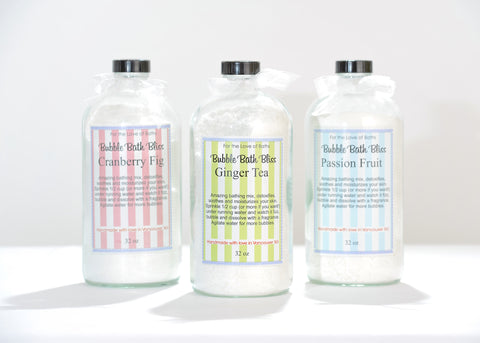 Bubble Bath Bliss
 Turn on the taps and sink into a blissful bath that will leave you feeling relaxed and detoxified. This gentle blend will soothe and moisturize your skin while surrounding you in sweet smelling bubbles that will float your worries away.   
Ingredients: Baking soda, citric Acid, cornstarch, SLSA*, coconut oil, refined sea salts, fragrance and/or essential oils. 
Gluten free, NO Parabens, NO Phthalates, NO SLS. Tested on friends and family only.
* Sodium Lauryl Sulfoacetate (SLSA) - A great alternative to Sodium Lauryl Sulfate. This product is derived from coconut and palm oils, and conforms to Ecocert's natural and organic cosmetic standard and is 100% of natural origin.